GET

habitual buyers

TO

make the switch to target owned brands

BY

advocating for price equity



The pink tax. It sounds cute, but it is definitely not!!!! Women end up paying over $1300 more a year than men for the same basic hygeine products. The only difference?

One is quite literally pink

. We're talking razors, shampoo, body wash, toothbrushes.

Why are people actually falling victim? Big brands like Johnson & Johnson and Proctor & Gamble set prices hoping no one notices. Habitual buyers are a corporate giant's dream customer! Until, Target steps in to not only educate about the pink tax, but elimate it in all target owned brands.

KEY INSIGHT: People don't care until you teach them to.

"Dump the Pink Tax" aims to educate shoppers about the effects of the Pink Tax and provide them a way to avoid it: by shopping target owned brands. Pink may be in, but pink pricing is so out.

Target's websites, socials, advertisements and rewards processes (crazy, I know) are turned pink to bring awareness to the pink tax to consumers.



Target's website is getting a makeover! The Pink Tax tab is a resource to educate customers about gender based pricing discrimination. Receipts, aisle displays, social media, and ads will direct consumers to learn more about the Pink Tax and what they can do to help.
To further revolutionize equitable shopping, Target Circle members will get extra rewards when they buy products affected by the pink tax - call it reparations.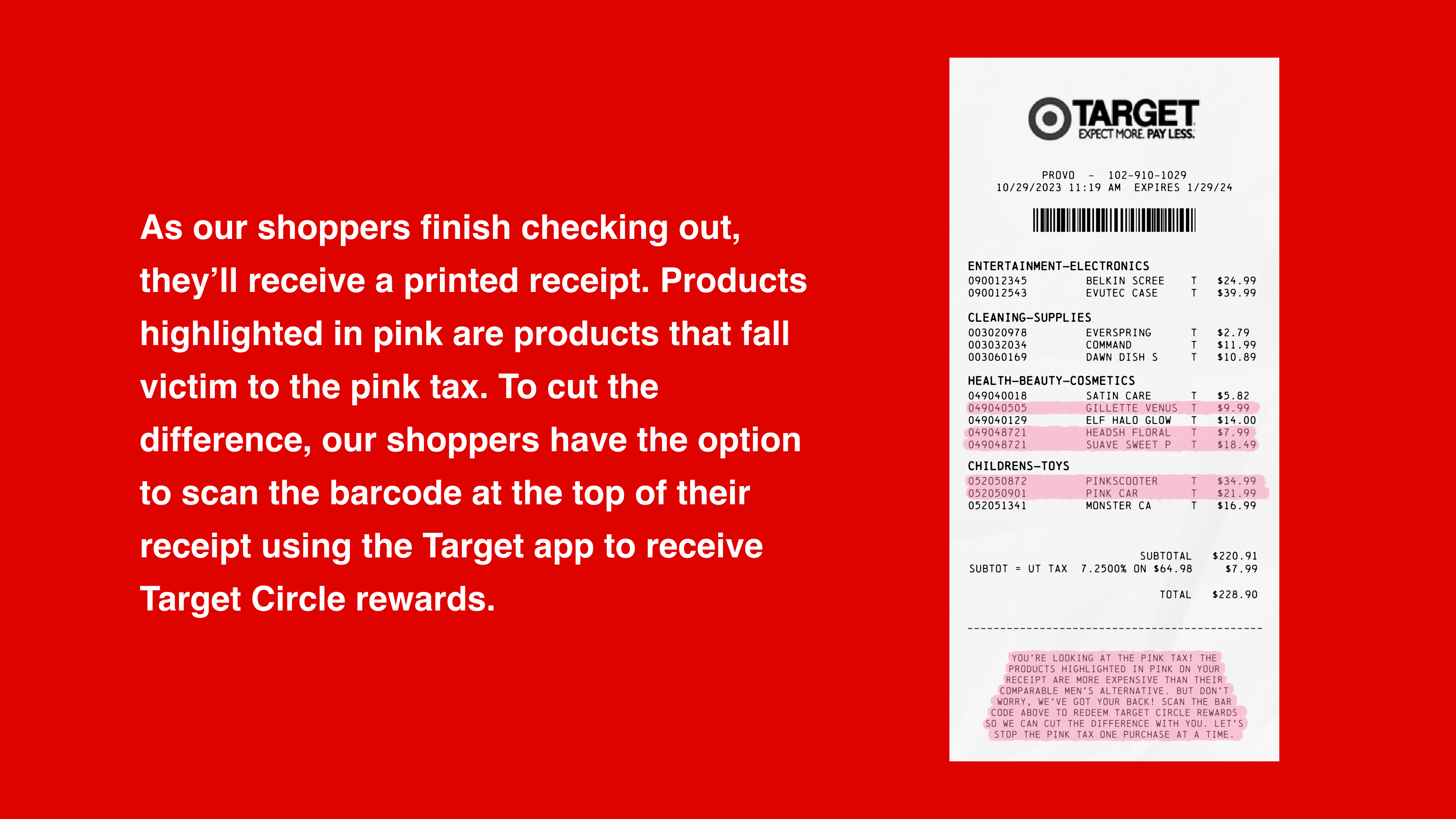 Strategy: Carinne Crum
Art Direction: Bri Lucero
Copywriting: Brooke Harmer